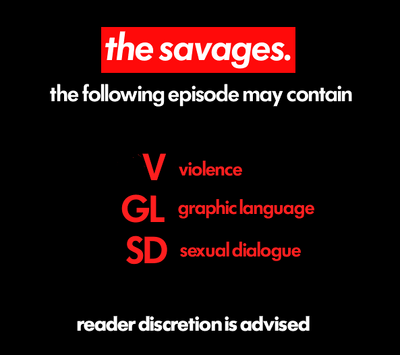 Carl encourages The Savages to ditch school for the day and take a road trip to Portland, Oregon; however, things backfire when they are stranded in the middle of nowhere. After a night at the Rave, The Savages lose control and are chased by drug dealing businessmen, whom Carl's father secretively works for. Zachary develops a crush on Trae, but when Joe kisses Trae—a part of his scheme—Zachary feels disappointed. Alex and Gina discover their childhood history together, and Sydney becomes fed up with Nate's behavior. Rose accuses Dirty Dan of the infamous video scandal, and it leads to one question—who made the video?
__________________
It was 1:00 in the morning—hours after The Savages faced potential consequences in Portland, Oregon. A glossy, silver Ford Edge vehicle drove hastily on the highways; the front headlights lit the dark concrete road. As the car drove at a soaring velocity, a large breeze entered the cracked window of the passenger's seat, where Alex Herrera sat. He faced the windshield across from him, while his mother angrily complained in Spanish.
"Alejandro Gustavo Herrera, estás metido en un buen lio!" Alex's mother yelled furiously. She had beautiful hair that went down to the edges of her shoulder blades, covered up in a black sweater.
Alex's mother, Marie, continued to yell in Spanish, "Me cago en la puta, Alex. Cuando vas a aprender a compotarte como una persona y no un animal. Estoy harto de tus niñerias."
Confused with her belligerent, foreign language, Alex tightly closed his fists, anxiously waiting for the trip back home. He felt a sense of guilt through his body, but again, he knew he wasn't at fault. That entire night, he hasn't touched one glass of alcohol—despite the peer pressure. He enjoyed himself, yes, but he definitely didn't want to set a bad example for Gina, who, ironically, set a bad example for herself at The Rave.
He hoped, yet knew that Gina would be safe and okay—but aside from facing verbal consequences from his mother, Gina was on his mind. At the same time, his fantasies were distracted by his mother, who continued to yell in Spanish.
Alex rolled his eyes—he got it—what he did was wrong. What else could he say to shut her up? He sighed as he began to reflect on his life before The Savages.
Alex narrated, You think this is bad? My childhood's been bad for years—even my family. I respect my mom, but I just wish she would just… shut up. Before I moved to Seattle when I was four, I lived in the worst part of Brooklyn, New York. Bedford-Stuyvesant—you know, where Biggie Smalls resided. Believe it or not, I never noticed how dangerous my life was there, but it wasn't a life in paradise. I'm talking Papi store robberies…
~
REENACTMENT: On a cloudy, snowy day, a Hispanic family of five roamed around the empty store, while a father watched a Spanish telenovela on the Telemundo channel with his wife. On a small, gray Sanyo television, the two talked in Spanish, while children roamed around behind the aisles with paper airplanes.
The peaceful, usual family bond was disrupted by a dangerous group of robbers—the quartet wore black ski masks on their faces, with holes showing their eyes and their mouths. With guns, they pointed at the husband and wife at the counter. The children hid fearfully behind the aisles, screaming, "Mama, papa!"
"Freeze, motherf*ckers!" A robber yelled aggressively. "Give me the money!"
The father raised his hands up to surrender, along with his wife, who fainted on the floor.
"What's wrong with your bitch, ese?" The robber asked the man at an inopportune time.
"Heat," The father said in a timid tone.
~
Alex continued to narrate, Ghetto pregnancies.
REENACTMENT: Near a row of brownstones in Brooklyn, New York, cars drove by quickly, while a pregnant, aggressive girl stood in front of another guy, arguing with him constantly in front of passing people.
"You the father, Marquan, you the father," The girl yelled and repeated. Marquan's eyes drifted away from the girl as an intimation of denial.
Marquan replied, "No, I ain't."
"Yes you are, Marquan. You finna take care of this baby. You finna buy the pampers, the Similac, the bottles, the clothes, my weave, you gonna take care of this baby, Marquan."
"You crazy, Tonya, you better get out of my face with that sh*t,"
"So, you really think you're gonna bust me wide open in your bed, and not take care of this growing seed in my kitty cat?" Tonya yelled, grabbing a gun from the pocket of her white fur coat.
"You got me f*cked up!" Tonya pulled the trigger, shooting Marquan once in the chest. After Marquan fell slowly to the ground, Tonya looked around in guilt. She put the gun back in her pocket.
She yelled, "And you better pay child support in heaven, hoe!" as she faced him on the ground. She walked away from his direction, and rubbed her enlarged abdomen.
"Don't worry, Baby Shaquille, I'm gonna find a real man with real money to take care of you," Tonya whispered hoarsely. She caressed her stomach with her lengthy, neon fingernails.
~
Alex narrated, Well, maybe I exaggerated at that point, but my family is like oil and water… every day.
FLASHBACK #1: Alex, at two years old, played with number blocks on the floor of his living room, and his playful curiosity was disrupted by constant arguments between his oldest siblings—specifically, his second oldest brother, Fernando (everyone called him Fernie), and his oldest, and only sister, Isabella (everyone called her Izzy).
"Mama, Fernie keeps touching my diary; tell him to stop!" Izzy yelled, while Fernie approached him. Alex watched, innocently witnessing the verbal confrontation.
"I didn't touch your nasty diary—it's full of cooties!"
The two began to argue in Spanish, and the arguments began to augment. Maria, the siblings' mother, entered the room angrily, confronting both Izzy and Fernie in Spanish, and the father entered, yelling at them all in Spanish. The family's oldest sibling, Roberto (also known as Robbie) walked across the confrontation with Sony headphones on his head.
~
FLASHBACK #2: Compared to years ago in Brooklyn, New York, the same, routine arguments continue with the Herreras. While Alex returned back home from school, he grabbed his large backpack as he avoided the tense argument between Maria, Alex's father, Armando, Izzy, and Fernie. Alex tilted his head to the left side, rolled his eyes and walked upstairs carelessly.
Alex narrates, Keeping Up With the Herreras, coming to your local televisions this winter.
~
Alex sighed as his mother continued to yell in Spanish, after 3 minutes of lecturing. Alex turned to his mother as she finally began to calm down.
"Comprende?"
Alex looked away, still confused with most of the things she said to him. In order to end the conversation, Alex sighed and complied, "Si, mama."
Welcome to my life, Alex narrated.
Ad blocker interference detected!
Wikia is a free-to-use site that makes money from advertising. We have a modified experience for viewers using ad blockers

Wikia is not accessible if you've made further modifications. Remove the custom ad blocker rule(s) and the page will load as expected.