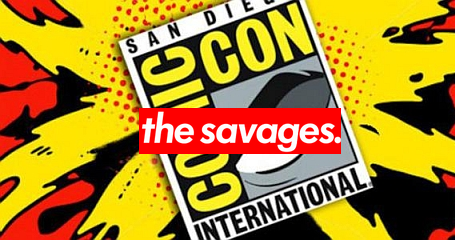 REBELReloaded, you have written many different fanfictions over 4 years, from Glee: The New Years to Glee: Los Angeles. Do you think The Savages continues your Glee concept?
Personally, I drifted away from the Glee concept, because it was repetitive to me. Once you start writing a Glee fanfiction, it gets fun after a while, but having the same concept gets tiring. Therefore, I discontinued most of my fnafictions because I wanted to write something more fresh and edgier. The Savages is different, despite the songs, because the characters all have edgier personalities, and the dialogue as more mature.
Tahj, we know that your character may be hooking up with a lot of characters, most likely Zach, as well, is there any possible chance that there may be a relationship?
*Tahj looks at Dylan O'Brien and smiles*
Tahj: Um, well, I'm not sure what will be in store for Trach, is that what you guys call it? But it's definitely going to take a while for Trae to really adapt to a relationship because he's so erratic with guys, you know? Going from Dirty Dan, to other students, in sm, he's a hoe.
*audience laughs*
Dylan: Zach will probably get pissed at Trae because he doesn't know that Zach likes him so much. I don't think Trae will ever get to realize that until later on.
Tahj: Don't make Trae the bad guy now!
Speaking of more romance, let's talk about Alex and Gina. We see there's an obvious connection. Is it likely that we'll get more of them in the season?
*Logan blushes and smiles at Alex, who talks*
Alex: There's definitely going to be a lot of Alex and Gina. If Gina wouldn't stop playing games with Alex's heart, they'd be dating by now.
Logan: Oh, hush! Gina is a proud independent woman. It takes time for her to find a real man. A REAL man.
*audience ooohs*
*Alex rolls his eyes and laughs at Logan*
Author: The thing with Alex and Gina is that it's like one of the power couples of the show. Of course, it's like a cliche love story between him. The jock falls for the nerdy girl, who doesn't know how to love. It's a cute bond between the two. Alex does seem to like Gina and protects and supports her like a guy should. So, we'll definitely see more of them in the season and beyond, I can't elaborate though!
Let's get to the music! Are there any upcoming songs to expect? 
Yeah, there are going to be some new songs that I'm thinking of adding. Definitely, there will be more Rihanna. I'm deciding to d a mashup of Disturbia and Radioactive. 
*audience cheers*
And I'm thinking of doing some Avril Lavigne, The Veronicas, some more rock and pop songs, as well as more hip-hop. 
Alicia, Sydney's rival Watermelondrea returns to torment her. Can you explain more?
Alicia: Watermelondrea is like... jealous of Sydney, but she doesn't exactly show it. When Watermelondrea returns, it may be for unexpected reasons, that's all I can say. However, Watermelondrea is a funny character, and working with the portrayer, Tre Melvin is amazing.
Speaking of Watermelondrea, Logan Lerman, can you tell us more about Nate's alter ego, Breadquanda?
Logan L: When Nate calls himself Breadquanda, it's more of a change in his behavior after he becomes closer to Joe. It's like Joe is a bad influence on him, and that encourages Nate to act differently.
Kyle, your character is the hugest manipulator this season. Do you really think he'll accomplish taking Trae down this season?
Tahj: No. 
*Tahj smiles and Kyle laughs with audience*
Kyle: Joe actually does a lot to take Trae down, I mean, from using Sydney and Nate. In the current episode we finish filming, Joe does something unexpected to get a lot of Trae, so it's shocking, but Joe thinks he's making a good move. I do believe, however, what Joe does could backfire on him. Either way, anything could happen.
Leighton, from the trailer, we have noticed you have given a good breakfast to Sena, another character on the show. How did it feel filming that?
Leighton: It was actually fun. Lyndsy and I really had a blash throwing cereal and milk at each other. I was scared to hurt her and mess up er air, but she kept telling me, "Do it, Leighton! Do it!" And I did, and it was a good season, haha.
Tahj: I had to watch that scene for myself to enjoy it. It reminded me of Bad Girls Club.
Besides the comedy, is there any more personal storylines that may be written for The Savages? We've watched The Feminist Manifesto, and it was intense.
Author:
Ad blocker interference detected!
Wikia is a free-to-use site that makes money from advertising. We have a modified experience for viewers using ad blockers

Wikia is not accessible if you've made further modifications. Remove the custom ad blocker rule(s) and the page will load as expected.